Welcome! In this section of the site, you can browse through our six observational clips and see MPS II patients that have both the severe and the attenuated form. Topics covered are: gait, behavior, changes over time, an interview with a sibling, and a look at enzyme replacement therapy.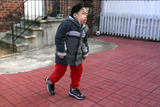 Gait
Duration: 05:13
Many MPS II patients have an unusual gait due to joint stiffness, tight Achilles tendons, and broad feet. Tight Achilles tendons lead some patients with MPS II to "toe walk" or walk on their toes. This video shows a sample of all our MPS II patients walking.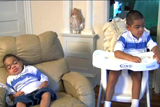 Contrasting Sibling Behavior
Duration: 02:18
Central Nervous System involvement is a key distinguishing factor between the severe and attenuated types of MPS II. Patients with the severe form, have an accumulation of GAGs in the Central Nervous System, which can manifest as seizures, cognitive decline, or behavioral issues. Patients with severe MPS II tend to exhibit hyperactive behavior and as the disease progresses, very subdued and passive behavior.
Both levels of activity can be seen in these clips of Joseph (hyperactive) and Victor (quieter, more subdued).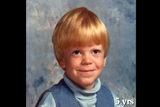 Jason: Changes Over Time
Duration: 07:01
Jason is a 32 year old, with the attenuated form of MPS II. MPS II runs in his family and is also present in his Uncle and Great Uncle.
In both severe and attenuated cases, features appear over time. However, patients with the attenuated form develop symptoms at a slower pace and often are not diagnosed until mid to late childhood. With disease progression, MPS II patients begin to develop similar physical features, including curled hands, depressed nasal bridge, thickened lips, and changes in skin texture.
This video shows how Jason's appearance has changed over time.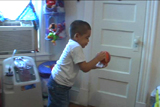 Joseph: Hyperactive Behavior at Home
Duration: 07:07
Patients with severe MPS II tend to exhibit hyperactive behavior at a young age. However, as the disease progresses, their behavior tends to become very subdued and passive.
Observe Joseph's hyperactive behavior at home. Joseph has difficulty staying still and remaining focused.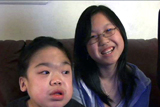 Sibling Story: Magle, sister of Pengle
Duration: 01:47
Magle (14 years) discusses life with her brother, Pengle.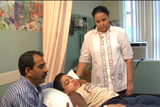 Michaels Improvements with Enzyme Replacement Therapy
Duration: 8:39
Michael, an 8-year-old with the severe form of MPS II, and has been on Enzyme Replacement Therapy for 6 months. In this video, Dr. Ibrahim discusses some of Michael's early symptoms. This video also shows Michael receiving his ERT, while Dr. Ibrahim describes some of his improvements as a result of the weekly enzyme infusions.