Medical Examinations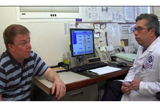 Jason's Exam with Dr. Pastores
Duration 30:32
Jason, 32 years old, has an attenuated form of MPS II. Listen to Jason discuss his everyday life, challenges, and symptoms with Dr. Gregory Pastores. Then observe a general exam by Dr. Pastores, in which he assesses Jason's overall health and points out some of the typical symptoms of MPS II.
---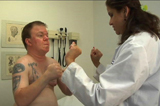 Jason's Neurological Exam with Dr. Sathe
Duration: 21:22
Patients with MPS II should be checked regularly by a variety of specialists. It is particularly important that both mild and attenuated patients have annual neurological exams to check for nerve compression.
Observe Jason's neurological exam with Dr. Sathe, where she tests Jason for the following: memory, speech, ocular movements, hearing, motor skills, muscle tone & strength, fine motor movements, reflexes, sensory function, and balance. During this exam, Dr. Sathe discovers that Jason has some exaggerated reflexes, suggestive of compression in the spinal cord.
---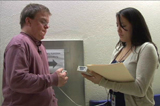 Jason's Pulmonary Exams
Duration: 15:30
In Jason's recent check-up with Dr. Pastores he complained of breathing problems both during the day and at night. On Dr. Pastores recommendation, Jason went for a Pulmonary and Sleep Study to determine the severity of his breathing difficulties.
Dr. David Rapoport, Director of the Sleep Medicine Program at New York University, guides Jason through the pulmonary exam, explaining the purpose of each test and Jason's results.